Custom Embroidery and Digitizing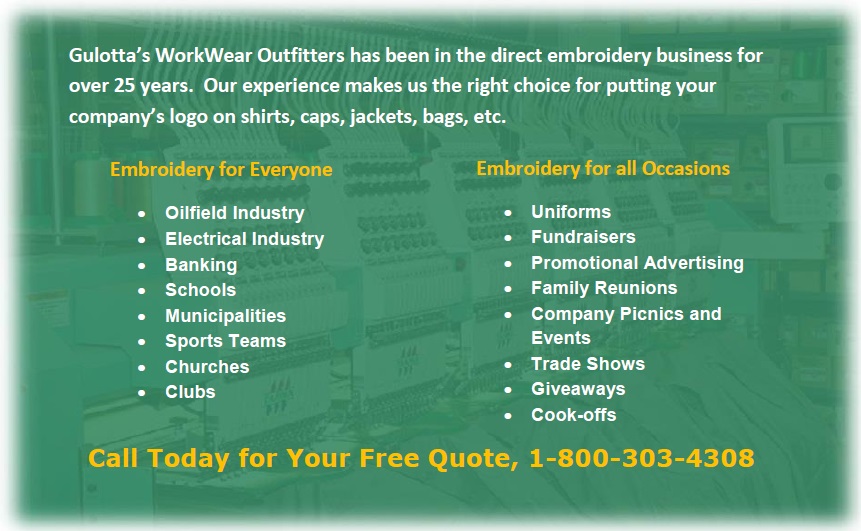 See how your design looks on your shirt before your buy! Click here to
select your apparel then upload your logo to try it before you buy it.
Attention to Detail
Quality starts with expert digitizing of your logo or design. Our many years of digitizing experience assure you of quality stitching every time we put your logo on your garment. We know what works best on which types of fabrics and will make recommendations based on whether your job will be stitched on a loosely woven shirt or un-structured ball cap.
Send us your logo and we'll provide you with a pre-production stitched sample before the job begins in as little as 3 days. Most set-up charges are as low as $40. After job set-up, editing is FREE.
Email your design to us today for a FREE quote, artwork@gulottas.com.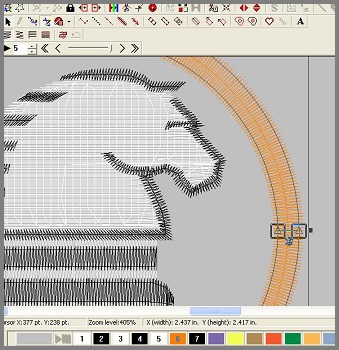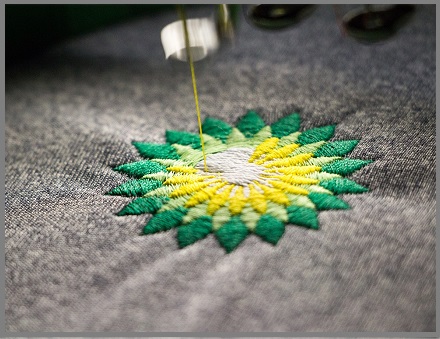 Production Ready
Our state-of-the-art embroidery machines are capable of stitching detailed corporate designs on just about any fabric. Our staff operates over 24 commercial grade multi-head embroidery machines allowing us to produce over 6,000 embroidered items per month.
Our machines are capable of stitching 270 degrees around your cap to make your message visible from all angles.
No job is too big or too small. And we'll get it completed on-time and on-budget.
Embroidered Patches
For a truly cost effective method of getting your logo on your employees work uniforms, embroidered patches are a wise choice.
When you have hundreds or thousands of employees, we can mass produce thousands of patches at a minimal per item cost to be stored and sewn onto your uniforms on an as needed basis. This is also the fastest method of completing your order.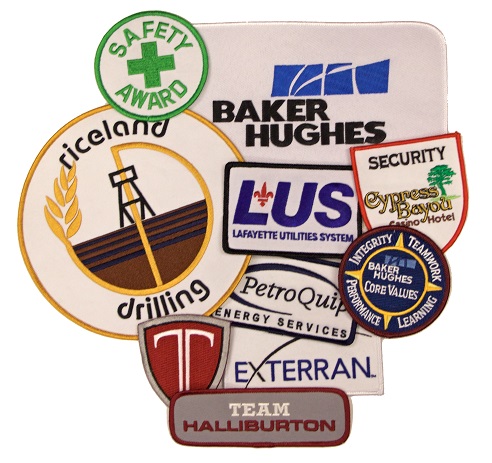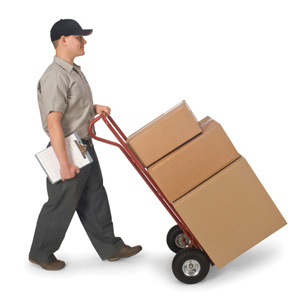 Fast Turnaround
Gulotta's is committed to providing quality embroidery services to complete your project on-time and on-budget. Once your design idea is approved we can usually ship your order in as little as 1 week.
Contact us today to find out how we can fulfill your embroidery needs, 1-800-303-4308.
Volume Discounts
Although we believe our pricing is already very competitive, we do offer volume discounts for industrial accounts who wish to establish a safety footwear or uniform clothing policy for their company. Whether you want to make a large one-time purchase or establish an on-going apparel program, we will be glad to accommodate your company. Contact a sales associate today for more information. 1-800-303-4308.

Credit Application