WorkWear Solutions for Businesses Small and Large

Download Credit Application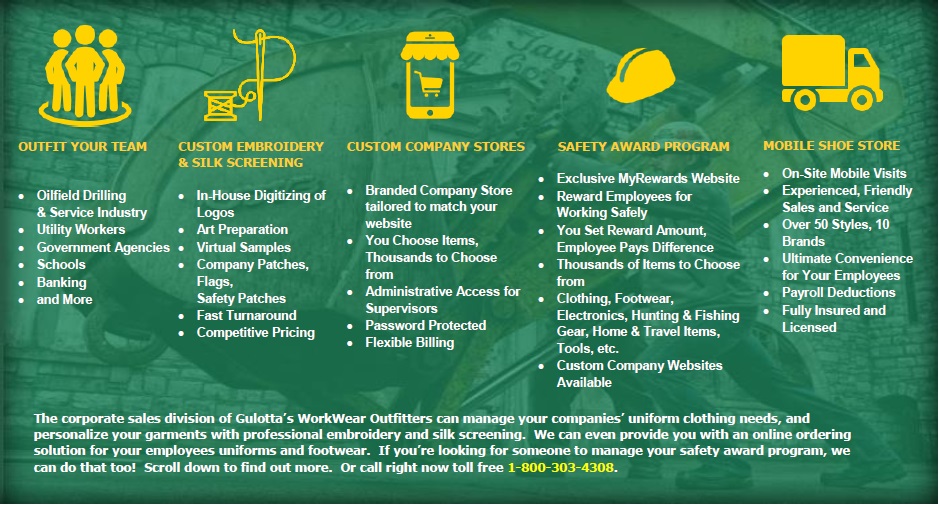 Outfit the Whole Team
Gulotta's WorkWear Outfitters corporate sales division specializes in providing business apparel and workwear personalized with your company logo. We can provide a customized uniform clothing program that will keep your employees looking sharp. Whether you're looking for office apparel or heavy duty industrial clothing personalized with your company logo and employee names, Gulotta's has a solution. Our staff of professionals is ready to assist you in selecting the right apparel or footwear items for your particular work environment.
Volume discounts are available. Have your team join our team today!
Send us your credit application today.

Credit Application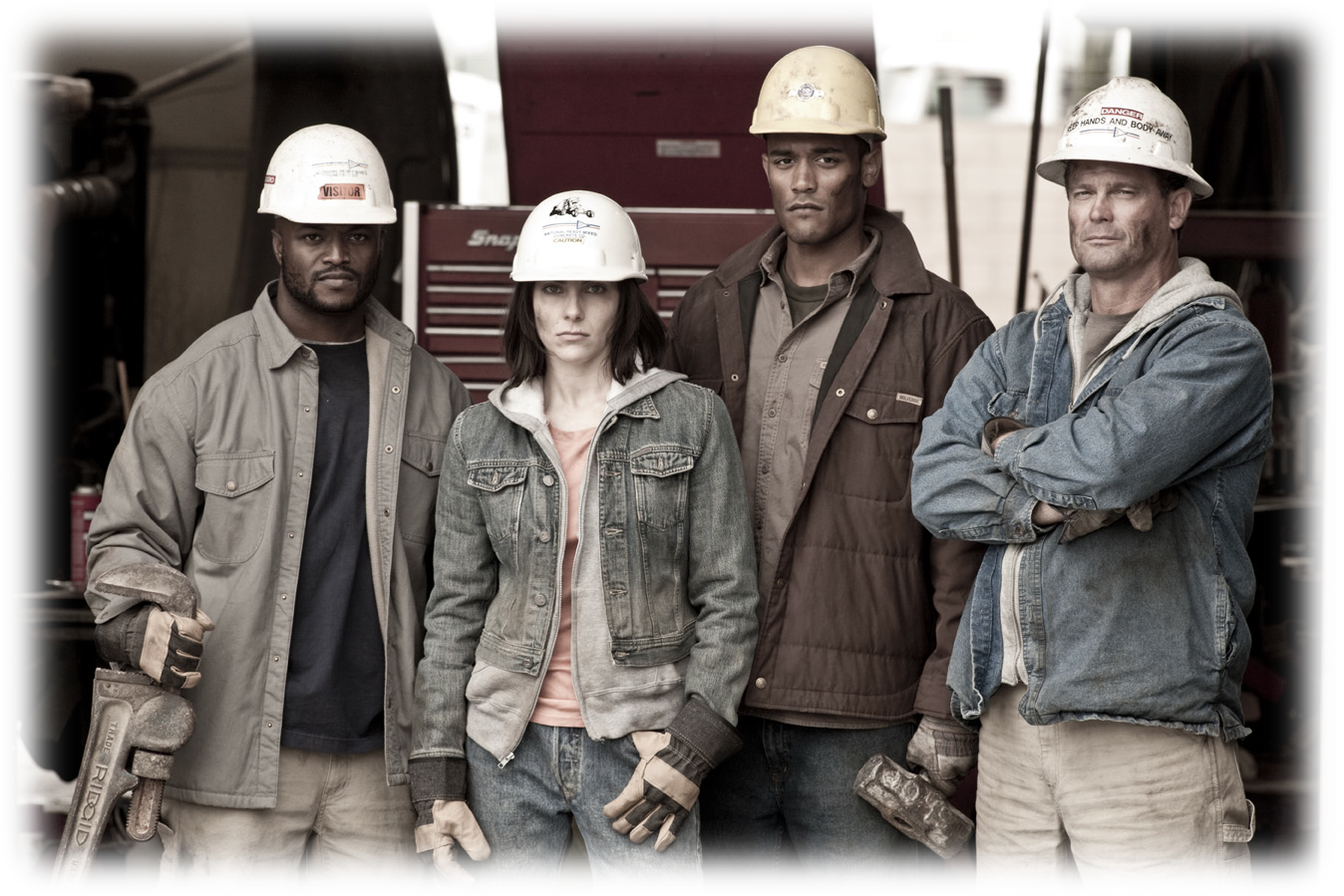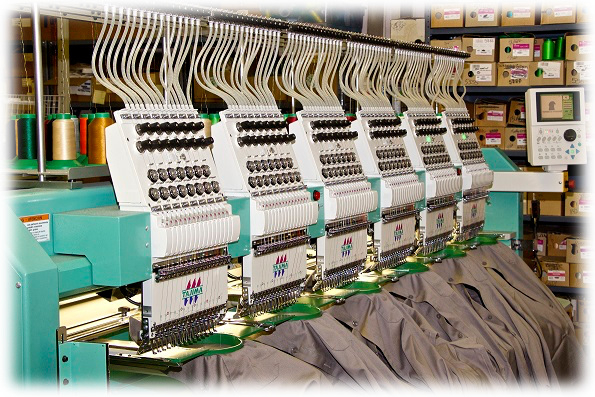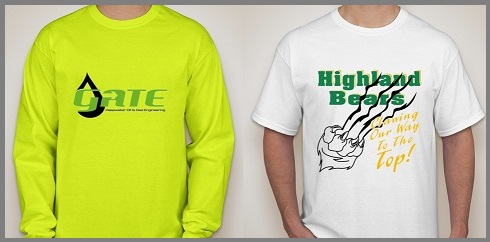 Custom Embroidery & Silk Screening
Need to get your company logo on your shirt? You've come to the right place. Not only do we have thousands of items to choose from, you can even upload your logo on our website to preview how it will look on your shirt before you order.
Our state-of-the-art embroidery machines are capable of stitching detailed corporate designs on just about any shirt, cap, jacket, or bag, etc. Our large scale multi-head machines allow us to produce over 6,000 embroidered items per month. But there are no minimums so call us if you only need one item embroidered. Click here for more information on our custom embroidery service.
Silk screened T-Shirts are an inexpensive way to advertise your company or organization and we can do it with no trouble at all. Need help coming up with a new design? Our staff will design and give you several ideas to help you in the decision process. Allow us to quote your next function or event. Minimum order for silk screening is 12 shirts. Click here for more information on our silk screening service.
All it takes is 3 easy steps:
Browse our catalog to select the items you want to embroider or silk screen.
Email your logo to us at artwork@gulottas.com with the amount of items needed. (A .jpg image is OK)
Receive your embroidery/silk screen quote.
We'll even send you a virtual sample of your logo on the item you want before you order.

Custom Company Stores
If you have a large team of employees and need to manage a uniform clothing program for them, we can make it simpler by providing you with a custom online ordering solution. We can brand your company store specifically to suit your needs by allowing you to select the look and feel of the site and what items will appear on the site. Categories on the site can be customized by employee work position so that employees can only choose items according to the position they hold within the company.
A dollar allowance can also be set for each employee so they do not exceed the budget allowance that you determine. If the employee exceeds the allowance he can use a credit card to pay the difference and the company will only be billed for the set allowance. All employee user accounts are password protected.
We can also grant administrative back-end access to the website to allow supervisors and managers to run reports, check order status, and manage employee accounts.
All employee orders can be directed to be shipped to a central location for management distribution or to the employees' homes. Shipped orders are billed monthly with net 30 credit terms.
We will be glad to demonstrate the program capabilities and how it can benefit your company by simplifying the ordering process and managing this typically burdensome HR benefit. Call today to see if your company qualifies for a no-fee custom company store.
Call toll free at 1-800-303-4308.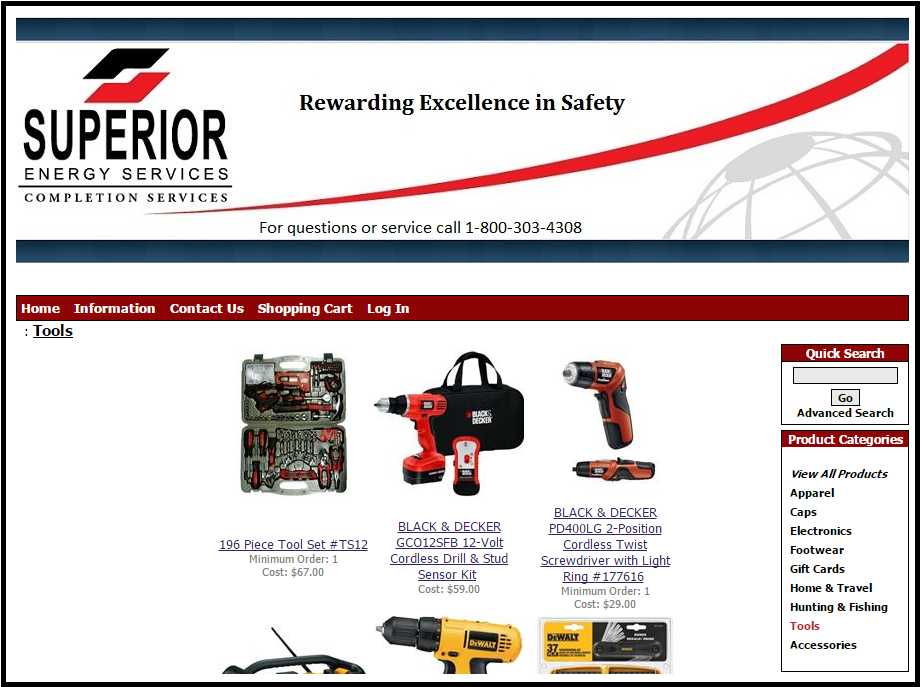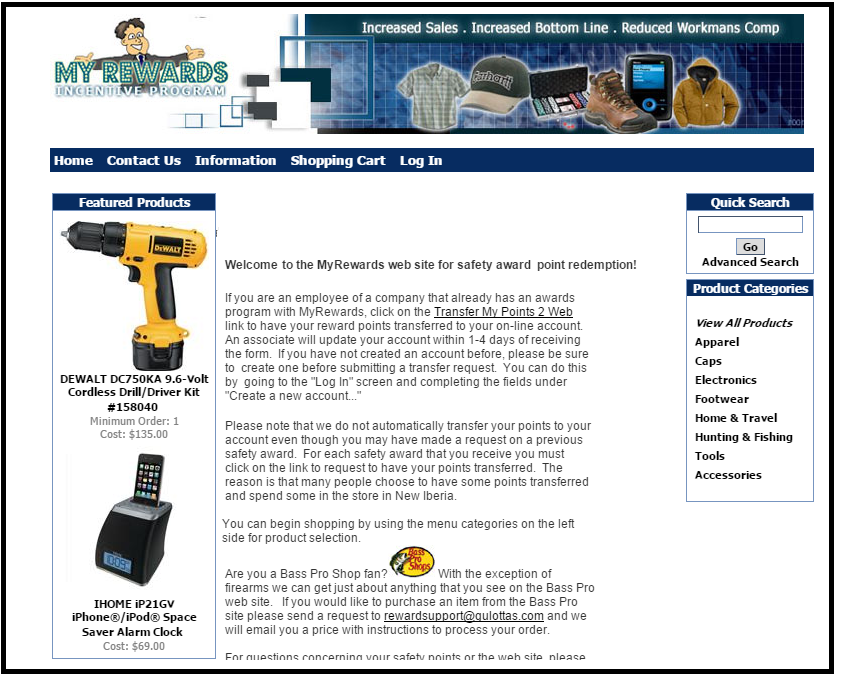 Safety Award Program
Attention safety professionals! Your job is to make sure your employees are working safely; our job is to help you in rewarding their on-the-job safety.
Gulotta's WorkWear Outfitters can quickly and easily implement and administer your safety award program through the use of our FREE MyRewards Safety Award website. We do not charge for the administration of your program when you use the MyRewards program. You are only billed for the items purchased.
Our unique site features items that are appealing to our customers in the oilfield business. Items such as hunting and fishing gear, personal electronics, home and travel items, tools, safety toe footwear and outdoor apparel are sure fire winners with our customers.
And your safety award program couldn't be easier to implement. You set the dollar amount to be rewarded, provide us with a list of qualified employees and we upload them onto the website with a unique username and password. Your company is billed when rewards are redeemed. If the employee exceeds his reward allowance he pays the difference with his own credit card.
If your company qualifies, you may be eligible for a free custom safety award website that is branded for your company. Your own site means you'll have back-end administrative access to run reports, check order status, and manage employee accounts.
We will be glad to demonstrate the program capabilities and how it can benefit your company by allowing us to take on the administration of your safety award program. Safety is your job, rewarding safe behavior is ours.
We Bring The Store To Your Door!
A hassle-free work footwear program with competitive pricing and on-site service.
       •    On-site shoe mobile visits, Monday-Saturday
       •    Fully insured and licensed
       •    Experienced, friendly sales and service
       •    Huge selection, 55 styles, 10 brands, pull-on and lace-up
Benefits for Your Employee:
       •    Convenience for employees who work long hours and can't 
             shop at a local retailer during normal business hours
       •    Payroll deductions offer ability for wage earners to purchase
            quality footwear on credit that they might not be able to do
            otherwise.
Benefits for Your Company:
       •    Safer employees because they are wearing safety
             toe footwear
       •    Boosted employee morale because they're wearing
            comfortable footwear.
       •    Footwear subsidies and payroll deductions become a
            product you can add to your employee benefits package to
            increase employee retention and reduce turnover.
Our service doesn't stop after the sale is made. We guarantee every shoe and boot we sell against defects in materials and workmanship.